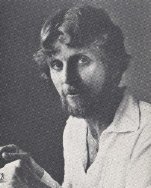 Paul Hapip has designed, made, and sold my own jewelry since 1969.  In 1984, I received a Goldsmith degree from the Revere Academy of Jewelry Arts in San Francisco.  All rings, pendants, and earrings are my original workmanship.

Each custom design style is very much a floral motif with leaves, flowers and vines surrounding and enclosing each of the gemstones I use.  Each design is originally carved in wax and through plaster molds is cast into 14kt. Gold  i.e., the lost wax process.
From the original metal casting a vulcanized rubber mold is made by me, and then other wax copies are produced.  Each of these is then adjusted by myself to ensure the exact fit of the gems to be set and to make sure all details of the design are as good as the original.  Each piece is then cast, hand polished, and all gems are set by myself.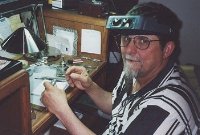 An added aspect of the uniqueness of my jewelry is the wide variety of precious and exotic gems I use.  These have been collected mostly through my travels around the world.
Since 1975, I've gone directly to mining districts in Brazil, Columbia, Chile, Thailand, Burma, India, Sri Lanka, Tanzania, and Madagascar.
I am able to guarantee my gemstones are natural, not man-made, through my formal training with the Gemological Institute of America, from which I received my Graduate Gemologist degree in 1986.
Gemstones I use in my jewelry:
Alexandrite

Amethyst

Andalusite

Aquamarine

Benitoite

Emerald

Chrome Diopside

Citrine

Diamond

Garnet

Iolite

Jade

Kunzite

Lapis

Moonstone/Spectrolite

Opal Triplet

Pearl

Peridot

Ruby

Sapphire

Spinel

Tanzanite

Topaz

Tourmaline

Turquoise

Zircon

Cat's Eyes – Alexandrite, Chaysoberyl, Kornerupine, Tourmaline

Star Stones – Sapphire and Spinel